An English country garden…31 floors above ground level!
Posted on May 15, 2015 by admin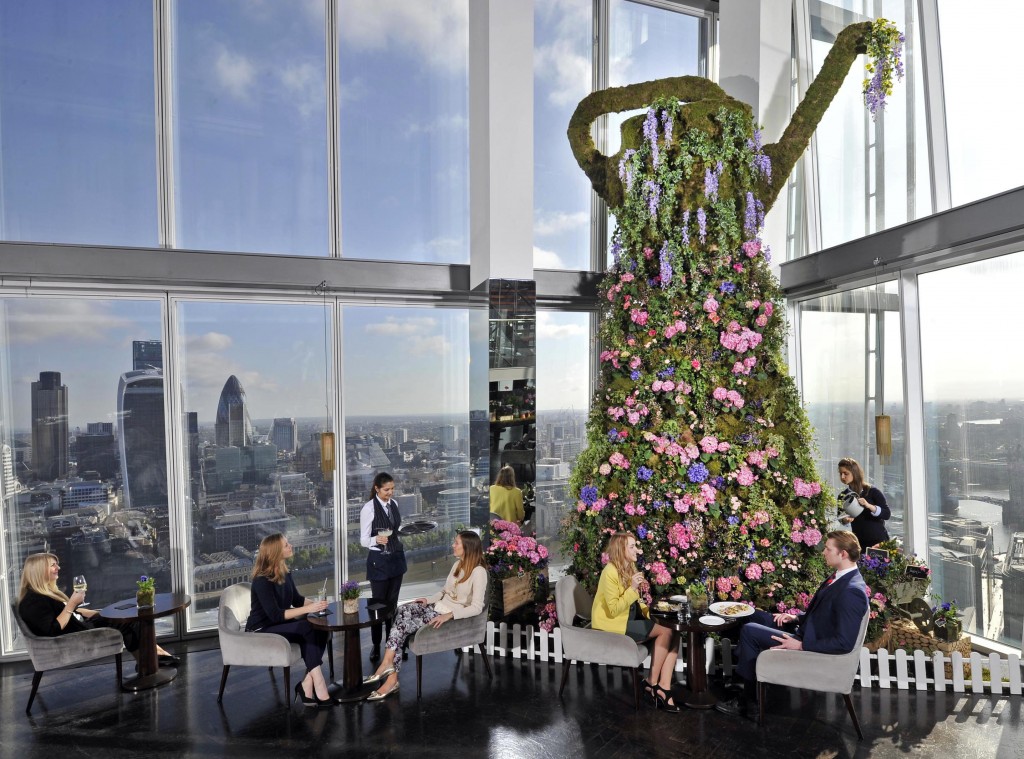 To celebrate the famous RHS Chelsea Flower Show which takes place in London next week, a corner of our triple-height atrium has been transformed into an English country garden, 31 floors above ground level!

A striking column of greenery and seasonal flowers, ​crowned by a six-foot, grass-covered watering can, has been specially designed and installed by acclaimed florists McQueens, alongside a dramatic stretch of real turf topped with pretty planters and gardening paraphernalia.
To complement the garden display, our chefs have created a three-course floral-themed menu which will be available from just before until just after the RHS Chelsea Flower Show, at dinner from Monday 18th to Sunday 24th May inclusive.
Echoing the scents and flowers within the installation and priced at £49 for three courses, the menu features Jasmine tea-steamed artichoke with citrus jelly and Jerusalem artichoke mousse with viola flowers, followed by Roasted wild sea bass with white bean stew, aloe vera cubes and dandelion seasoned with acacia rose vinaigrette.  For dessert, an orange blossom and pink pepper panna cotta will be served with black olive crumble and a white chocolate sorbet.
We're excited about having our very own 'flower show' and we do hope that when you visit us you'll take a few moments to pause and enjoy it!