Beef rib for two – the ultimate feast!
Posted on July 2, 2015 by admin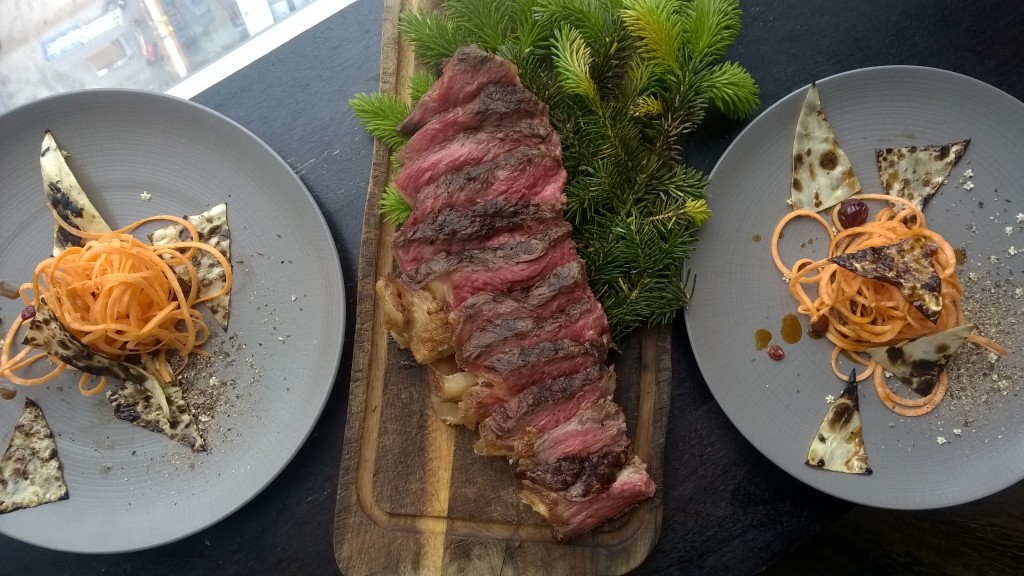 We know and appreciate that for many guests a visit to aqua shard is intended as a celebration of a special occasion – a milestone birthday or anniversary, becoming engaged, success at work or a reunion with old friends – and every day can feel like a celebration!
With that in mind we've added a very special sharing dish to the menu – a 1kg rib of Galician Blond beef, one of the best-tasting, richest and tenderest cuts we've come across. Whereas most beef comes from cows aged 2-3 years, Galician Blond comes from older dairy herds aged 8 years, meaning that the meat has more marbling of fat which makes it richer and tastier.

Seared on the grill, roasted until rare (the best way to enjoy this cut, although it can be cooked for longer to taste) and then well-rested to allow the juices to really permeate the meat, the rib is then carved into thick slices, seasoned with coarse sea salt and served with crunchy shaved sweet potato, spiced onion jam and 'proper gravy'.
This impressive cut of beef, beautifully cooked and presented, will feed two very generously, making it the perfect way to celebrate – or simply indulge yourselves in a well-deserved treat.
You can browse the full menu and book your table to enjoy this dish via our website.