Prawns and pork – a perfect pairing
Posted on April 10, 2015 by admin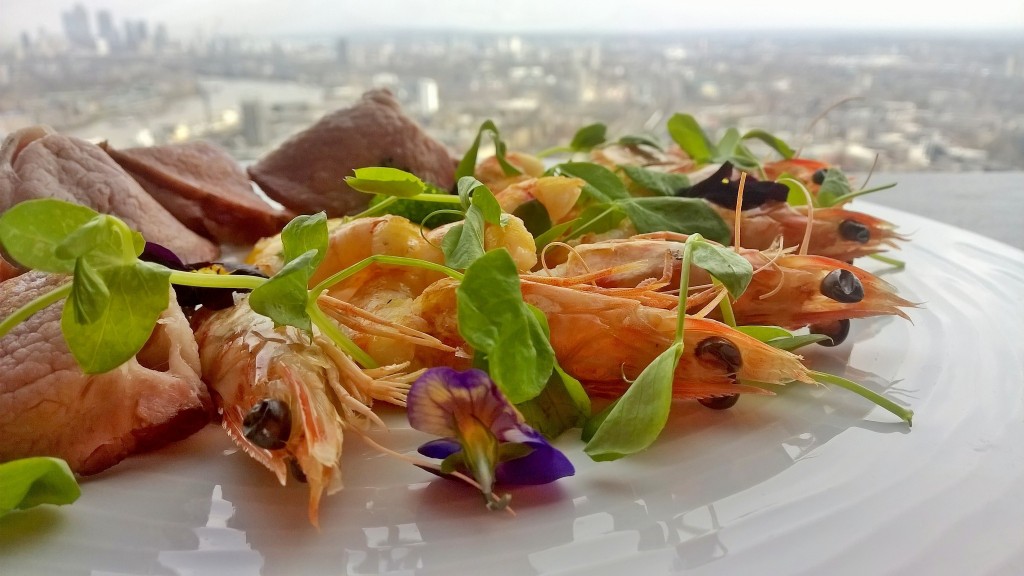 It's all change on the a la carte menu for April as we introduce a host of delicious new dishes for Spring, including one that we're sure will be an instant favourite – Mazzancolle red prawns with treacle-cured pork.

Mazzancolle prawns are a prized Mediterranean variety, notable for their striped shells and particularly plump, sweet flesh. Grilled to give them a wonderful depth of flavour, they're teamed with slices of treacle-cured fully free-range Blythburgh pork, a fried free-range duck egg, smoked milk mousse and tobiko – flying fish roe – to create a very contemporary take on surf-and-turf.
The dish works so well because of its clever balancing of different tastes; sweetness from the succulent prawns, saltiness from the pork and tobiko, and savouriness from the egg and mousse. The textures are all perfect complements to each other too, making this a real pleasure to eat.
Available at dinner on the a la carte menu, we know that is one dish you won't want to miss. But remember, the menu changes frequently so be sure to enjoy it while you can!
Book your table for dinner today on the About Us page.